One of the most challenging tasks for new affiliates or even those wanting to set up an online business with WordPress is how to install WordPress using Cpanel and Fantastico.
Today I am going to give you a walkthrough tutorial on how to install WordPress using Cpanel and Fantastico and be operational within 15 minutes of reading this post, sound like a fair deal!
Keep reading, and you will have your first WordPress site launched in no time.
A Step By Step Tutorial To Install WordPress Using Cpanel and Fantastico
Now before we get started, if you don't know if you have Cpanel or not, then you'll want to contact your web hosting company.
We use and recommend Hostgator. Use Coupon Code affWordpress01 to get your first month for only 0.01 cent.
If you find that you don't have Cpanel, don't worry. In a separate video tutorial, we will show you how to install WordPress manually.
Now if you don't have Web hosting at all, then you will need to get some before you get started with this tutorial.  We'd recommend that you hop on over to Hostgator and use our coupon code affWordpress01 to get your first months hosting for only 0.01 cent.
Hostgator will provide you with both Cpanel and Fantastico to help you get started, and their support techs are more than willing to help if you need it, however after this tutorial you should not need any assistance at all, if you do then just post your comments below I will personally help you out.
How To Access Your Cpanel Control Center
So with that at of the way lets go to your web servers Cpanel and enter your username, your password, and click on login. To do that you will simply need this URL – http://www.yourdomain.com/cpanel please change "yourdomain.com" to your actual domain name.
This is your Cpanel control centre where you can access Fantastico; you'll need to scroll all the way down to the bottom of the page under the category Software / Services look for the blue smiley face, just look for my big red arrow.
All you need to do is click the blue smiley face, and we will get started installing WordPress.
What is Fantastico?
Fantastico, if you are not aware of what it is, it's a bundle of software put together with a lot of free scripts that you can use to install WordPress on your web server, it's virtually pointing and clicking as you are about to see below.
This is the Fantastico control panel where you will be able to select your WordPress installation.
Now, this is where we roll up our sleeves and get to the business end of installing WordPress right here; if you are ready to get started then click on "New Installation." Before you jump in and start, you need to have already set up your domain or sub-domain to install WordPress, if you have not then check out this WordPress video tutorial.
And the first thing you want to do is figure out where do you want to install WordPress, if you're going to install WordPress on YourDomain.com then you'll just leave this blank. However, if you would like to install WordPress in a subdirectory, you want to fill it out here.
So, in this case, I'm installing WordPress into a subdirectory on my web server.  This is a new WordPress blog that I am setting up for the members of my site with exclusive offers. If you look at the screenshot above you will see how to configure this to start the installation process.
Enter your nickname (I have just made one up here for this tutorial), enter your e-mail address,  and enter your site name – "Affiliate X Files Member Area"  "Get Exclusive Access To My Top Marketing Strategies".
Click on install WordPress, and you're almost done.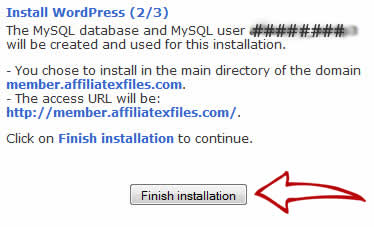 Click on finish installation, and this is the information that you will need.
You'll need your username and password that you created and if you click on this link "http://www.member.affiliatexfiles.com" (make sure it is your domain you are using not mine) it'll bring you to the dashboard or your newly installed WordPress Site.
Now before I log-in, I want to say that if you want a copy of your username and password all you do is enter your e-mail as you can see above, click send e-mail, and you'll get a copy of the username and password as in the screenshot example above.
So great, we've installed WordPress on this website. So let's go ahead and log in.
This is the standard installed theme for WordPress, if it is not to your liking you can find a WP Theme for virtually any niche market, the best place to start looking is Studiopress not only are they easy to use and set up but many of their themes are now mobile responsive giving you the edge over many of your competitors.
Now before I end this tutorial on how to install WordPress using Cpanel and Fantastico, I want to show you how to update to the latest version of WordPress.
Unfortunately with Cpanel when you do install WordPress using Fantastico, it installs with a particular version which is usually not the latest version. If you want to update, all you have to do is log-in to your new WordPress site "http://yourdoamin.com/wp-login.php" look at the top of the dashboard, and you will see "WordPress 3.4 is available – Please update now".
So if you – Click on "Update now."
Enter the hostname which is "localhost" to learn how to do this step you will need to watch our step by step video or read our next tutorial on How To Update WordPress with FTP.
Check out our complete WordPress How To Video Series that will walk you through step by step every process you need to know about setting up and launching your very first and profitable WordPress blog.
Enter your FTP username and password which is the same as your Cpanel username and password.
Click on Proceed, and this process will take a couple of minutes because it is downloading and upgrading WordPress.
Congratulations you have completed the installation of your first WordPress site next is learning how to install WordPress manually using FTP.
If you found our tutorial on "How to install WordPress using Cpanel and Fantastico" helpful, please submit it to the social networks below it only takes one click and it's done. Thanks for supporting Affiliate X Files and we hope to see some of your comments below.. Maybe you would consider subscribing to our
site feed
so you don't miss any of the WordPress tutorials we will be releasing over the coming week.