So you want to make some big money with affiliate marketing, after all you've heard all the rags to riches stories online about people who were dead broke finding fame and fortune and now it's your turn to do the same thing right.
Well there is some really good news and some really bad news that you need to know before you start so you can avoid any silly mistakes.
When I first started affiliate marketing it was easy to make money, I just registered a domain name brought a hosting account and wrote a few reviews on products or services I found on the Clickbank affiliate marketplace and away I went, it was money in the bank and big money as well.
And that worked just fine for a while without too much effort on my part or even very much out going expense.
However overtime and as more and more people started in affiliate marketing the competition became fierce and the results were not to impressive for the time and effort I was now putting in to my affiliate business just to make a living.
What I did not realize was that I was making some very fundamental mistakes with what I was doing, so let's go over them now so that you can avoid these mistakes right from the start.
Things To Consider Before You Start
The first and most common mistake that is made by many affiliates is trying to do to many things at once whether that is creating websites or joining to many affiliate programs. Just these two aspects alone can make you very time poor and place a lot of extra work into your day, not what affiliate marketing should be about.
Affiliate Marketing Is Not About Selling It's About Helping
You need to stop being a salesperson, confusing right and I do understand that "Affiliate Marketing" may be the concept of marketing but people do not like to be marketed to. A good place to start is on the Amazon Marketplace where you can see genuine people writing genuine reviews on the products that they have used. That is useful information to people looking to buy that product.
When I first started it was the complete opposite, I would create a landing page stuff it full of content about how great the product was and throw in a few big buttons with "BUY NOW" on the page and sales rolled in 24/7, I was living the dream.
Joining To Many Programs At The Start
This another problem you will face and can make you very time poor when pursuing a career as an affiliate marketer. Actually it got so bad for me that at one stage I was going to quit this all together I not only had hundreds of programs that I had joined but I know had all those vendors also bombarding me with emails about how to promote their products.
However even though you just read that last sentence you will be tempted to join any and every affiliate program that comes across your desk. While you do need to diversify you also need to be very focused on what it is you are going to promote, and the site's content will determine that.
Remember this, having to many programs to choose from will lead to confusion and a lot of time wasted in researching each of these products or services, in most cases these programs will not be relevant enough for the content of your site.
Pick the programs that are related to what you are writing about and stick with them for at least a month, if you are not seeing any results then look for another.
Check The Honesty Of The Vendor First
This has happened to me a few times in the past where I found a really good product to promote, set up the affiliate links and wrote a page and even saw a few sales initially. What I did not count on was this, most the visitors I was sending to the site via my affiliate link were not purchasing straight away but were opting in to the vendors sales page.
That was fine by me as I knew all the visitors I was sending had my affiliate link associated with their visits or so I thought. What had happened was the vendor had then added a script to the code of their pages which was now removing my affiliate link and replacing it with theirs, meaning I was now losing commission for each sale made when anyone became a subscriber of that site.
Make sure when joining any affiliate program you follow all the funnels that are offered to any site visitors to see what happens including joining any email lists or you may be wasting your time promoting that product or service.
Have A Plan For Content Delivery
How do you plan to deliver content to your readers?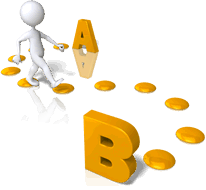 This is another factor that can have adverse effects on how Google ranks your site. Are you delivering quality sharable content or are you just writing review after review hoping that someone will click on your affiliate link and buy a product.
As I said previously in this article you could actually market this way in the past, register a domain name get some hosting and write a heap of reviews and start filling your bank account with money. Sadly though those days are long passed and now you need to be building trust and a relationship with your site visitors.
How do you build trust and relationships? Let's go back to point one of this article where I talk about helping readers. This is where you are either going to make it or break it with affiliate marketing. If you can genuinely help your readers and then funnel them through to a sales page you have a much better chance of not only making a sale but getting great exposure in the search engines and social circles.
You see it's no longer just about the sale but building a relationship with users so they will then add you into their social circles. After all this is a business just like any other and the more social interaction you can get the better your chances of making more affiliate sales.
Creating A Like Minded Network Of People
This is not something that is discussed much in the affiliate community but it is an essential part of getting great results for your business. You need to be building relation ships with other bloggers in related or similar niches, this will not only build your own sites authority faster but will help you get additional ideas and much greater advertising exposure.
It took me a long time to get my head around this, I didn't want to share anything I knew with others after-all they were affiliates and so they must be my competitors right. I could not have been more wrong in my thinking this is one of your most valuable assets to have a collection of other related sites around the world where you can interact with their readers and even write guest posts without having to send out hundreds of emails to other unknown sites begging for the chance to write a post.
Tracking Your Results
This is another area that took me a while to catch onto, you need to be tracking results and by that I'm not talking about just sales even though that is important but the clicks you are getting from your affiliate links. To put it in perspective what is the use of having an affiliate link whether in text or banner that gets hundreds of clicks but no sales. All you are doing is wasting valuable real estate on your site.
Find a good program that works for you, I use GotryThis and have done so for more than five years now with great success. But that might not be for you as it has monthly cost so you might want to find something that can do this for free like Simple URLs if you are using a WordPress blog.
Choosing The Right Site Design
When choosing a site design you need to be thinking ahead or it can be a never-ending process of changing and updating. What you want to be looking for is a site that is mobile responsive as this is the future of all websites. When i started out I had to manually build my site in HTML using Dreamweaver and then after a few years i had to switch all my sites over to WordPress.
Now 2013 and into the future the best option is to look for a web design that is firstly easy to use for you and is mobile responsive and coded for HTML5. I know this might sound a little confusing but it will be well worth your while to start your business using these two features. Google has even stated that nearly all searches will be done via a mobile device by 2015 so you really don't want to create a site only to overhaul the whole thing in a few months.
We use and recommend Studiopress as our preferred platform as it has a large collection of responsive themes they are easy to set up and the support is simply awesome.
In Conclusion: These are just some the factors you need to consider when wanting to start an affiliate business, if you have any questions or concerns please shoot me an email and I will be more than happy to help.