In case you have been living under a rock for the last six months you would have heard about how you can be dominating video online.
Every launch that I have seen in the last six months has used video marketing, and not only get the message out but also increase sales dramatically. Statistics are showing that there is a considerable increase in the number of people now viewing videos online.
How You Can Now Easily Start Dominating Video Launches
If you are an affiliate marketer, then you will want to know how to start dominating video launches with your video marketing. You are also probably saying that you don't have the tools or even the knowledge to do this and I would have agreed with you a month ago, it was just too laborious and time-consuming to produce quality videos for online use.
What Are The Essentials Of Video Marketing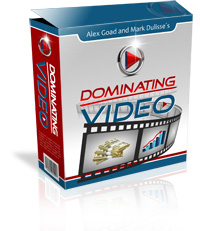 Firstly, and before you ever produce your first video online, you are going to need a few tips to get the best results for your efforts.
You are going to need to know how to correctly optimise your video titles, which will give you a better chance of getting that all-important click through onto your money page.
By now you should already realise how crucial it is to have your page titles and headings optimised for the best results, well it is no different when you are doing video marketing.
Another essential factor that many people don't even really know about as yet is choosing the right thumbnail image for your video, yes this can be just as important as the title of your video. This mainly comes into effect when people are presented with a range of videos online and more often than not the one with the right thumbnail image is the one that will be clicked on and watched.
You need to use an image thumbnail that will capture the essence of what your video is going to be about and the attention of the person searching for information.
Video Marketing Its Much More Affordable Than SEO And More Effective
I am not sure if you are aware of this, but when you create a page on your site you also need to have some form of SEO strategy as well, whether that is on page or off page SEO, without it, your pages will never be found.
With Video marketing you create the video, select a suitable title and thumbnail and add it to your site or upload it to Google and you will see traffic start following in a very short period.
So why am I telling you about this?
Introducing Dominating Video Marketing
What is it? Grab a cup of coffee, and I will explain.
Video marketing is the most efficient and time-saving way to get your message out online, and with the creation of many video sites such as Youtube, the exposure you get is massive as well as very responsive to a correctly produced video.
For those that have mastered the art of dominating video, the results have been awe-inspiring, again I will ask you how many product launches have you seen this year that did not use some form of dominating video technique.
Dominating Video Is About Getting The Leads
One of the hardest things to do as an online marketer is consistently getting leads to opt-in to your subscriber list. We get emails every single day with people asking us how to efficiently do this without resorting to things like pop-ups or forced opt-ins.
Our quick answer is always the same, and that is video marketing. This is the easiest and most time-saving way for you to get people to opt-in on your site, this then allows you to reach out to them time and again through email marketing.
You can just do this by creating a dominating video, laying everything out in front of the potential subscriber, without them having to scroll through lines of text which usually does nothing more than force them to leave your site.
Dominating Video The Right Way
You should be laying out your dominating video production in such a way that it is step by step, easy to follow with effects and even music if it fits the video presentation. Remembering all the while that the most crucial aspect of your video is the content you are presenting.
Dominating Video And The Results
It's said online that a long sales letter is more efficient than a short one, but it's always a wise choice to have both, giving your potential customers a choice. Your sales copy is virtually always text-based with some pictures scattered across the page to break things up, right!
The gurus have realised that using these dominating video methods allows you to quickly and very efficiently get your message across with a short but to the point video presentation. You can even break down your site into different pages, with a video presentation on each, giving your reader many more choices and without all the hyped up sales pitches, just the facts.
The bottom line is this, by efficiently using the dominating video techniques you can explain your product or service with no need to sound like a salesperson, and the result is more sales for your efforts.
For those that are not using video right now in their niche market do some research, have a look at what is getting listed above you, yes that's right, it is video. Online video is increasing in popularity, and you need to get involved now to stay ahead of your competitors.